The internet is ablaze right now with eulogies to J.Crew, which filed for bankruptcy on May 4, 2020. As it turns out, many of us adored the version of life portrayed in the early catalogs, and have been pining for the brand's clean, vivid iterations of classics.
I'm no exception. In fact, I was so drawn to the buzz and brilliance of J.Crew in its early years that I went to work for them at the company's first store, which opened in the spring of 1989 at New York's South Street Seaport. During its 20th century heyday, the Seaport teemed with both locals and tourists, with street performers and live events. On warm evenings back then, the plaza was crowded with cute Wall Street interns and analysts drinking beer out of oversized, blue Foster's cans. The Seaport wasn't like the rest of city. Off the grid and set apart from cars and buses, it was airy, open, relaxing and fun in a way midtown wasn't. So, when my parents suggested (more like insisted) that I get summer job before heading off to college that September, I set my sights on the Limited Express in Pier 17 and J. Crew, which was just steps off the Seaport's cobblestoned main square.
My family had been devotees of the catalog for years. My rollneck sweater was in a sunny lemon yellow; my scoop neck, one-piece, tank bathing suit was the best shade ever of bright pink. And though I don't remember much about my interview, I do remember what the manager who interviewed me was wearing when she sized me up late that spring: cropped seersucker pants, a crisp white broadcloth shirt tucked in, a brightly patterned grosgrain belt and red flats. Without even trying, she knocked the J.Crew look out of the park, and when she offered me the job on the spot despite the fact that had no experience, I accepted immediately. I started in mid-June, just a few days after my high school graduation and prom.
The store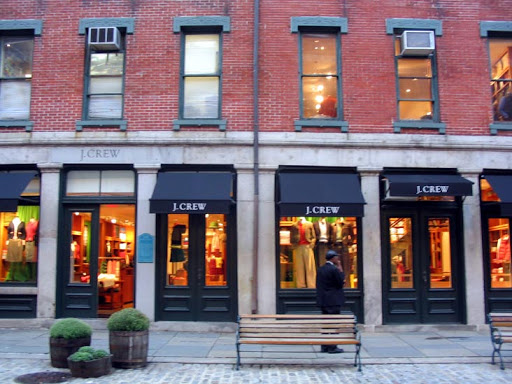 The décor and vibe at most of the J.Crew boutiques I've been to around the country and Europe is actually pretty consistent with that of the original location. There was lots of blonde hardwood flooring, display racks built into the walls and various stations with folded clothing scattered around. But in 1989, polo shirts were king (and some of what J.Crew did best), so the entire side of the main room of the Seaport location was a kaleidoscope of polos. And in the evenings, after closing, there was an ongoing debate among the employees (one of whom had previously worked at one of the city's many of Benetton locations) about whether or not the shirts would display better if folded in the 'Benetton Method,' which required placing a piece of plastic the size of a clipboard on top of the back of the shirt and then folding the sleeves and rest of the body inward. The shirt was then flipped over and the plastic was slipped out, leaving a sharp-edged, flat, uniformly-folded garment. The result was impressive, but did it prioritize perfection over accessibility and nonchalance? Was it at odds with the J.Crew ethos? That was the core of the controversy—and it will probably surprise no one to learn that the Benetton Method did not become our folding protocol.
The original location's main "room" also housed the cash registers and accessories. A back room was home to the men's department, and a two-story room to the right of the main area that was the ladies' department. Up front stood our security guard, who actually worked for an outside company, but wore J. Crew clothing instead of a uniform. In my mind, he'll forever be in a muted gray/blue/green madras blazer and chinos in 'Stone.' Also unforgettable: his instructions to us regarding potential shoplifters. If we saw someone suspicious, he told us to come up to him and conversationally say something like, "Hey! Did you see Monte is here in the store?! He's in the back! Wearing a baseball cap!" or mention some other identifying detail so the suspect was easy to spot and shadow. (Note: I might be wrong regarding our Code Red catchword. It was definitely a two-syllable boy's name, and "Monte" feels right. But if any other early J. Crew employees can confirm or correct me, please do!)
As for the atmosphere at the original store, it was J.Crew's special brand of casual. We employees were instructed to be chatty and friendly with the customers but also unfailingly polite. If someone asked us to check for an additional size in the back, we were to head to the storeroom even if we had been in there moments before. The most frustrating shopping-related phrase of all time--"All of our sizes are out"—was never to be uttered. After closing, we sat around the long picnic table in the employee area and were schooled by management in other customer service Best Practices, such as seamlessly looping a more senior staff member into a discussion with a customer if we weren't certain of how to accomplish a request, and escorting customers to the cashiers when they were ready to pay instead of abandoning them once they'd made their selections. The goal was to "be like L.L. Bean," with its incomparable standard of client service and support. To that end, on one of my first days as an employee I was sent out to deliver a package to a customer on east 62nd street. I can't remember exactly why there were items that needed to be delivered (had something been out of stock? Did the original store offer tailoring? I'm no longer certain), but the assistant manager (Nancy!) instructed me to choose a few 'fun' T-shirts to include in the bag as a gift because she wanted to ensure that all customers' first interactions with the bricks-and-mortar store were as good or better than those with the catalog.
Another fun detail about the physical space: the store had a commercial sound system that could only play proprietary "cassettes" that were larger than a regular cassette, but not as big as an 8-track. As a result, the only music that could be played was what came with the system, and the store only had two of the uncommon cassettes. One was a mix of big band and 1950s selections that contributed to the store's breezy, jaunty atmosphere. It featured "Diana" by Paul Anka, which I'd never heard it before that summer, but can still sing just about every word of by heart.
The people
Employees were required to wear J.Crew clothing head to toe (except for shoes, which I don't think the company made back then. But I might be wrong. If J. Crew did sell any at the time, it was only via the catalog). So before starting, I was gifted two complete outfits of my choice, accessories included. Some of the items I remember selecting were a navy blue, chunky cable knit sweater, several chino miniskirts (white, orange and periwinkle blue), a handful of polos and a tangerine-colored broadcloth button-down shirt with horizontal white stripes, which I wore until it was threadbare. During my time at J.Crew, employees enjoyed a -50% Friends & Family discount, which meant that I not only kitted out my entire wardrobe, but also those of any acquaintances who came by to shop (including several of my older sister's ex boyfriends and the chaplain of my high school, who bought hunter green chinos).
Everyone who worked in the store that summer had The Look. Most of my male co-workers wore khaki pants (rolled up to flood length, obvs) or Bermuda shorts with oxford shirts and striped ties. One dreamy associate, who totally knew how to style a look, often paired a bold orange and blue striped tie with a chambray shirt and khakis—and it looked as on point then as it would today. For shoes, the guys favored suede bucks or canvas boat shoes. The women on staff wore skirts and tops, or pants…but cute & dressy. There was no sloppy. Laidback, yes. But no sloppy.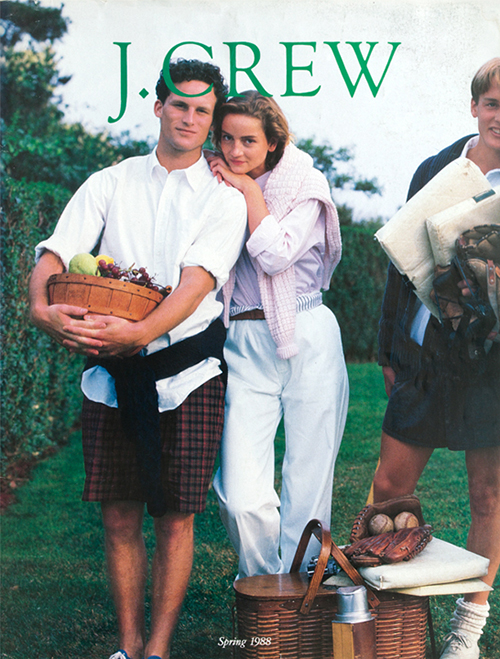 Over the course of the summer, Arthur Cinader (the company's founder) and his daughter Emily Cinader (who later succeeded him as CEO) came in many times with Groups of Men in Suits. They were maybe investors? Or retail strategists? Together they would stroll around the store, sizing up the displays and querying us about foot traffic and which garments/accessories generated the most interest. In addition, the models from the catalog came in. Pretty frequently, in fact. We would flock around them like the A-list celebrities they were to us and ask questions about the photo shoots. In return, they seemed to like hearing about the customers' reactions to the clothes and the brand. 
As J.Crew employees, we also enjoyed a little bit of fame. When we stepped out of the shop or into Fulton Market (which housed an early version of a gourmet food court), people would stop to ask us what it was like to work for such a recognizable, iconic company. And once one guy who worked at the Abercrombie & Fitch across the plaza figured out at an informal bar crawl attended by of a bunch of Seaport employees that another young female sales associate and I worked at J.Crew, he engaged in what we'd classify today as stalking. At the end of the day, he'd be hanging around outside to talk us. A few times, he ambushed me from behind as I walked to the Seaport from the Wall Street exit of the 6 train. Looking back, I realize now how absolutely creepy he was. But back then, we explained it away as an inescapable downside to having a visible, coveted job.
The evolution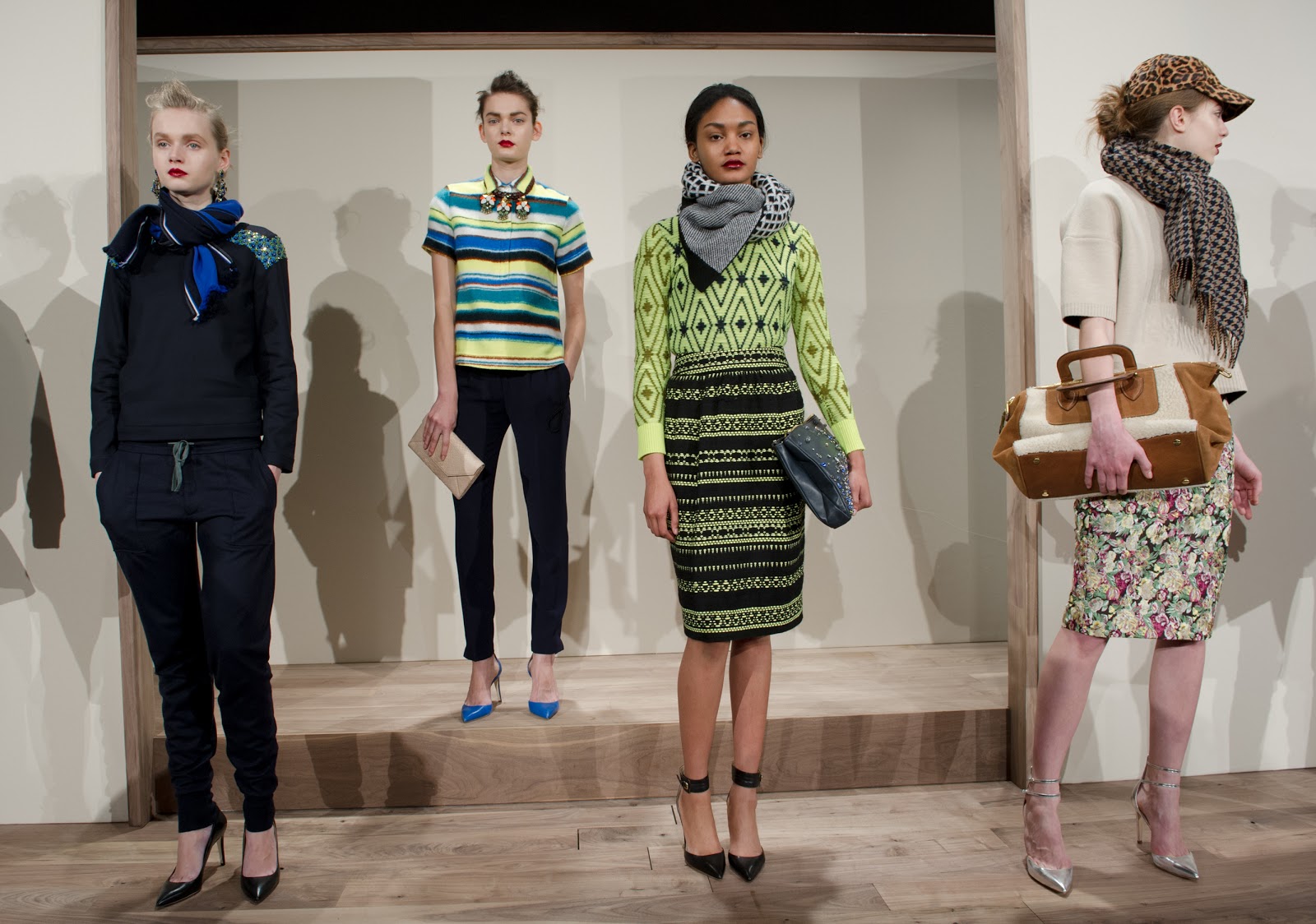 Like so many others, I grew apart from J.Crew as it evolved from ultra-wearable, classic-with-a-twist sportswear to hyper-refined, pricey pieces best suited to the Conde Nast cafeteria or the Hampton Jitney. I even shared my heartbreak the brand's transformation with the New York Times for the 2012 piece about 'breaking up' with clothing labels titled "'It's Not You; It's Me' We Tell Our Clothes" with the hope that the J.Crew corporate team might take note of my grievances and change course.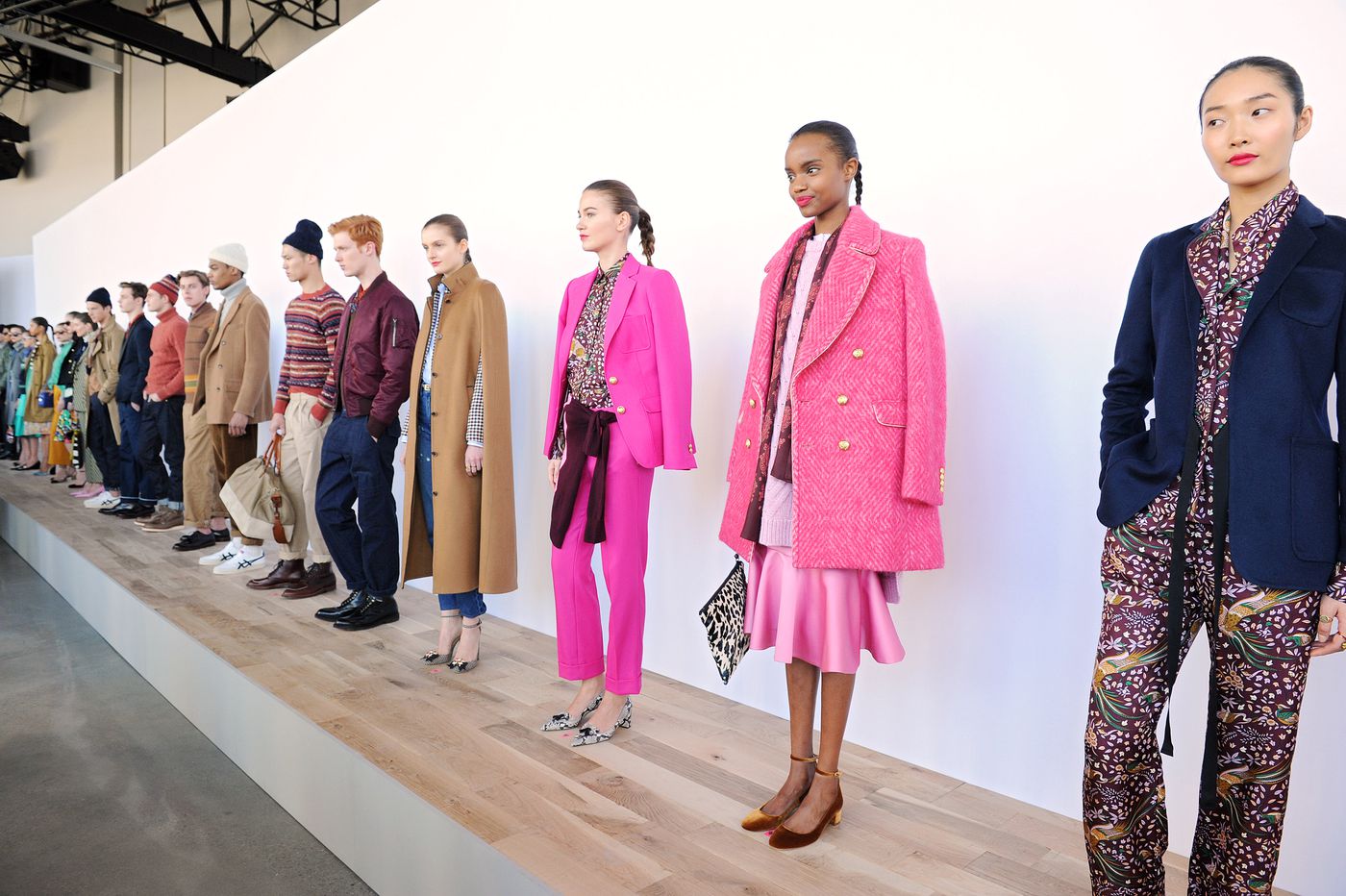 So sorry I couldn't make that happen for all of us, guys. But the company hopes to survive bankruptcy and reorganization, so perhaps there's hope yet.
Either way, J. Crew will always be a home base of sorts for me. Its aesthetics and outlook defined a style and philosophy that will always be in fashion--at least for me. Plus ultimately, the world needs a place where we can all appreciate a massive wall of precisely-folded, ultra-vivid polo shirts. Because it really is a thing to see.
← Back to portfolio