Yay!
Kate had her baby! And she's super cute. Awwww.
Best of all, they didn't name her something totally bonkers like Briar Rose (looking at you Rachel Bilson) or Royal Reign (not a fan) or Jermajesty (cause that was already taken).
Still though, I'm mad at Kate.
I mean, I get it: She's a celebrity and all eyes are on her all the time--never more so than on Saturday when she emerged from the Lindo wing (of some hospital in London where the rest of the place almost certainly isn't nearly as nice as this one much talked-up area). To put it simply, Kate looked perfect. All pulled-together and coiffed and poised (she did after all have a 'crack squad of stylists' as only the Daily Mail could phrase it).
Plenty of articles have already voiced a sense of pity for what Kate must have had to go through to look that good hours after the birth. They've posited that her (trademark nude) heels must have been killing her and that she (like so many women heading home from the hospital with a newborn) was most likely wearing one of those giant, hospital-issued lady diaper/maxi-pad thingies.
But I do feel like Kate missed an opportunity here. She squandered a chance to counteract the immense and intensifying pressure that so many women face to bounce back pretty much immediately from pregnancy, labor and delivery. In fact, she's helped raised the bar (which is totally high enough already). Back in the day, Heidi Klum took five weeks before hitting the runway (she's old skool like that). Whereas today, taking anything more than four days to post a flat-stomached selfie after giving birth is kinda pushing it.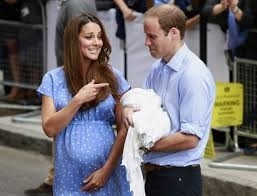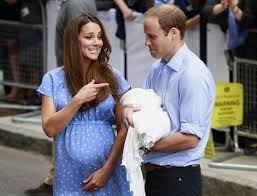 When Kate introduced Prince George in July 2013, she outright flaunted her "mummy tummy" (oh, those cheeky, clever Brits with their cheeky, clever expressions) while departing the hospital. And though she bounced back ever so quickly, the few glimpses we had of her post-partum figure were kind of galvanizing and inspiring. I liked her more than ever right then for being brave enough to be real.
So wouldn't it have been cool if this time around, she had injected another dose of reality into the whole myth of instantaneous post-partum perfection? I'm not saying she should have exited the Lindo Wing (I just like writing/saying that) looking as haggard and exhausted as a commoner (oh, wait....) but rather that she could have used her platform to make a difference.
And by doing so, IMHO, she would have done a great service to her most devoted subjects: other women.
← Back to portfolio